The way that
goodsearch
works is that in December, they cut a check for the charity for all money raised via searching or shopping during their fiscal year (Oct 1st to Sep 31st). They only send money if the charity earned at least $20. Unfortunately, the Brattle hasn't earned $20 yet so far for this fiscal year. However, the great news is that in the month of February, the amount of money raised has been dramatically higher.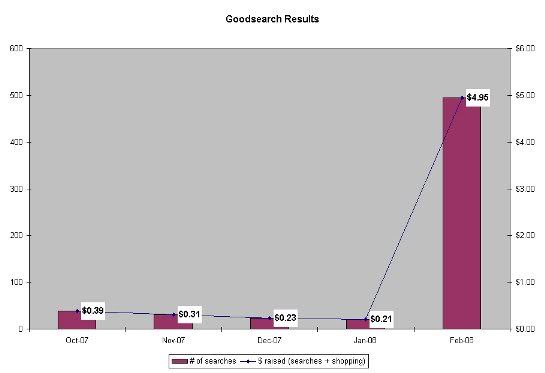 This chart tracks the monthly number of searches (the bars) and the money raised from searches + shopping (the line). Since all money raised so far has been from searching and not
shopping
, the monthly amounts track the same.
I'm very encouraged by the dramatic increase in goodsearch use and I really hope that people will take a few minutes and run some searches with this tool. If we tell our friends about it and use it consistently, it can be a great source of funding for the non-profit theater.
At the end of every month I'll post some info about where we are regarding the goodsearch fundraising. Since I have to fly out of town tomorrow, I'll do that right now.